Tobacco Prevention and Control
The use of tobacco products is the leading cause of preventable death in the United States. The Tobacco Prevention and Control program at Southwest District Health works to build community partnerships and focuses on activities to reduce youth initiation, reduce exposure to secondhand smoke, and promote quitting. You can find information on services provided by Southwest District Health below.
FREE Quit Nicotine Classes
Quitting nicotine is the single best thing you can do for your health. Southwest District Health offers FREE classes to help individuals stop smoking, chewing, and vaping. SWDH offers:
Adult cessation classes in-person or virtually
Youth cessation classes with an emphasis on quitting e-cigarettes/vaping
Diaper & wipe program for pregnant families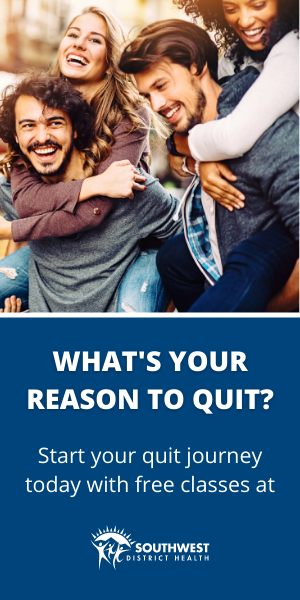 Free Nicotine Replacement Therapy (NRT) (gum, lozenges, patches) is also available for individuals who enroll in quit nicotine classes.
Tobacco Free Policies: Tobacco Free policies prohibit the use of all tobacco containing or tobacco derived products, smokeless tobacco (snuff, chewing tobacco, dip, snus), and alternative nicotine products such as e-cigarettes and vaping.  SWDH in partnership with Project Filter can help your business or community organization develop a tobacco free policy and access free signs to promote your tobacco free environment. These policies are important in helping create a smoke free environment for your employees and customers.
Free Phone and Online Coaching
Project Filter also offers free quit coaching over the phone with additional online support through email and chat. These services offer counseling and support with an experienced coach to help you create a quit plan. A FREE eight-week supply of nicotine replacement therapy (gum, lozenges, patches) is also available when you enroll in the adult program.
For more information, please contact:
Hailee Tilton
208-477-4162
hailee.tilton@phd3.idaho.gov 
Additional Tobacco Prevention and Control Resources