Benefits to Baby
Breastmilk is the perfect food for your baby. It's just what your baby needs.
Breastfeeding helps protect babies from sickness including diarrhea, ear infections, and pneumonia.
Breastfed babies are less likely to develop asthma.
Children who are breastfed for at least six months are less likely to become obese.
Breastfeeding reduces the risk of sudden infant death syndrome (SIDS).
Benefits to Mom
Mothers who breastfeed have a decreased risk of breast and ovarian cancers.
Breastfeeding helps prevent osteoporosis and hip fracture later in life.
Breastfeeding helps you get back into shape faster. Some mothers see a faster weight loss when breastfeeding.
Breastfeeding helps you bond with your baby, it's a special gift only you can give.
The motto of Southwest District Health Peer Counselors is "Any Amount Counts!".
Peer counselors are current or former WIC participants who are trained to help new moms breastfeed their babies.  Connect with a Peer Counselor by calling 208-455-5330 for more information.
Consultation with an International Board Certified Lactation Consultant is available for breastfeeding counseling and support on a fee for service basis with fee payment plans available or sliding scale fees based on income and household size.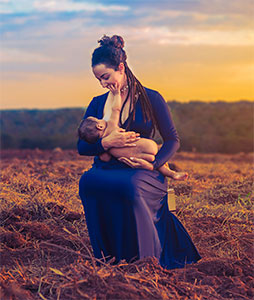 Non-Discrimination Statement
USDA is an equal opportunity provider. USDA es un proveedor que ofrece igualdad de oportunidades.  To read full statement, click here.