Teen Pregnancy Prevention
About the Adolescent Pregnancy Prevention Program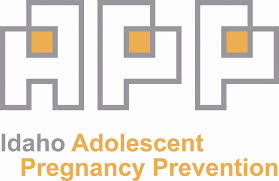 To decrease teen pregnancies in Idaho, the Adolescent Pregnancy Prevention (APP) program aims to provide youth and their parents/caregivers with access to sexual health education. Studies show that sexual health education helps teens delay sexual activity; use condoms and birth control correctly, avoid sexually transmitted diseases, and prevent pregnancy. 
Unplanned teen pregnancies cost Idaho taxpayers approximately 39 million dollars a year in Medicaid, foster care, and incarceration.  These figures are not surprising given that children born from teen pregnancies often have poorer mental and physical health compared to children born from planned pregnancies. 
Please visit www.idahoteenpregnancy.com for information on teen pregnancy in Idaho for teens and parents.
Reducing the Risk Curriculum Overview
The Reducing the Risk Curriculum is evidence-based, abstinence-based curriculum that is also medically accurate and covers the following subject areas and National Health Education Standards (NHES) 
How to say no to sex

 

Abstinence planning

 
Correct condom use

 

Birth control methods concept/knowledge

 

How to avoid Sexually Transmitted Infections (STIs)

 

Where to get tested for STIs

 

Where to obtain birth control and condoms

 
Reducing the Risk (RTR) is a 16-session curriculum designed to help high school students (9th-12th grade) delay the initiation of sex or increase the use of protection against pregnancy and STD/HIV if they choose to have sex. The major focus is the development of attitudes and skills that will help teens prevent pregnancy and the transmission of STD, including HIV. This research-proven approach addresses skills such as risk assessment, communication, decision making, planning, refusal strategies and delay tactics. 
The RTR curriculum helps teens to: 
Evaluate the risks and consequences of becoming an adolescent parent or becoming infected with HIV or another STD.

 

Recognize that abstaining from sexual activity or using contraception are the only ways to avoid pregnancy, HIV infection, and other STDs.

 

Conclude that factual information about conception and protection is essential for avoiding teenage pregnancy, HIV infection and other STDs.

 
Demonstrate effective communication skills for remaining abstinent and for avoiding unprotected sexual intercourse.

 
Making a Difference Program Curriculum Overview
The Making a Difference Curriculum is an evidence-based, abstinence approach to teen pregnancy and HIV/STD prevention. The curriculum provides young adolescents with the knowledge, confidence, and skills necessary to reduce their risk of sexually transmitted diseases, HIV and pregnancy by abstaining from sex. 
The goals of the Making a Difference! program are to: 
Help young people change behaviors that place them at risk for HIV, STDs, and pregnancy.

 
Delay the initiation of sex among sexually inexperienced youth.

 

Reduce unprotected sex among sexually active youth.

 

Help young people make proud and responsible decisions about their sexual behaviors.

 
To reduce STD/HIV and pregnancy risk-related behaviors, young adolescents (middle school aged) not only need knowledge and perception of personal vulnerability, but also positive attitudes and beliefs regarding abstinence, abstinence negotiation skills, and confidence in their ability to abstain from sex. The Making a Difference! curriculum is designed to meet those needs. 
The program's goal is to empower young adolescents to change their behavior in ways that will reduce their risk of pregnancy and HIV or other STD infection. Specifically, this curriculum emphasizes that young adolescents should postpone sexual activity and that practicing abstinence is the only way to eliminate the risk for pregnancy and STDs, including HIV.
Families Talking Together Parent-Engagement Education Overview
Families Talking Together is a parent-based intervention to prevent and/or reduce sexual risk behavior among adolescents. The main components of the intervention are parent discussions with an interventionist and a family workbook designed to teach parents effective communication skills, build parent-adolescent relationships, help parents develop successful monitoring strategies, and teach adolescents assertiveness and refusal skills. The program can be delivered to parents either individually or in small group sessions, in a range of settings. 
The program seeks to prevent and/or reduce sexual risk behavior by:  
Increasing effective communication skills 

 

Building parent-adolescent relationships

 
Helping parents develop successful monitoring strategies 

 

Teaching adolescents' assertiveness and refusal skills.

 
Families Talking Together consists of two components: 1) a family workbook; and 2) individual or group sessions. The program is delivered through the interventionist targeting parents through individual or small group discussions. Parents implement the program using the family workbook and individual discussions with their teen.