COVID-19 Public Health Advisory Lifted for Adams, Canyon, Gem, Owyhee, Payette, and Washington Counties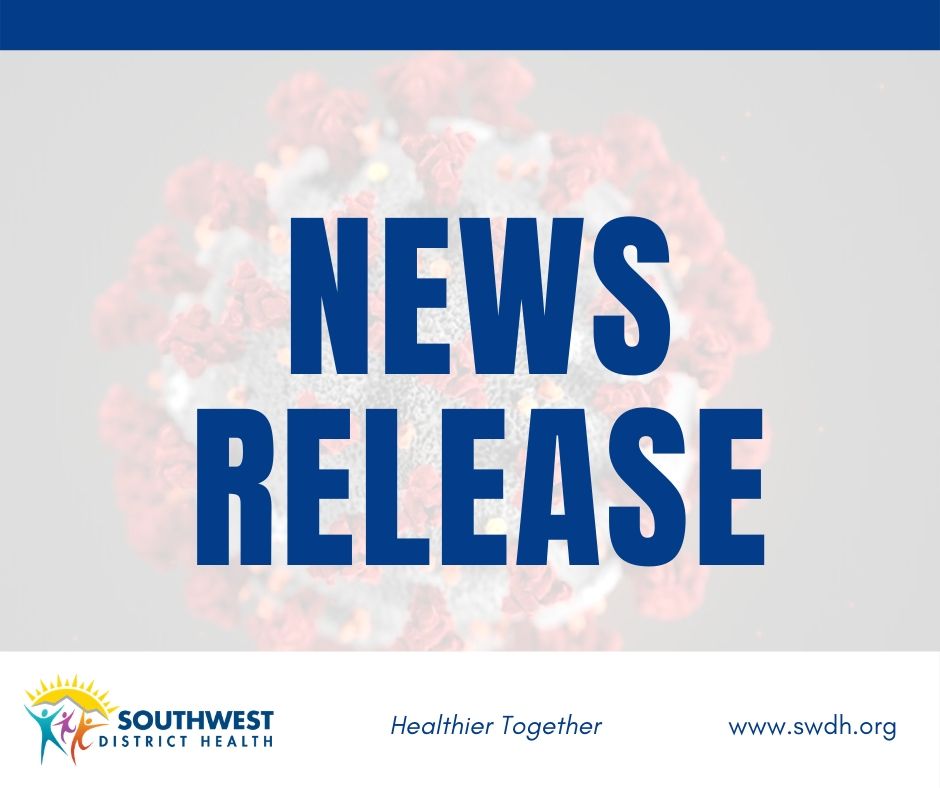 FOR IMMEDIATE RELEASE
COVID-19 Public Health Advisory Lifted for Adams, Canyon, Gem, Owyhee, Payette, and Washington Counties
CALDWELL, IDAHO – Southwest District Health has lifted the COVID-19 Public Health Advisory issued November 20, 2020 for the six-county jurisdiction of Adams, Canyon, Gem, Owyhee, Payette, and Washington Counties. The advisory was prompted by a continued surge in case counts, increasing demands on the healthcare system, and a backlog of cases that required public health investigators and contact tracers to prioritize incoming case work. The health advisory was not a mandate but instead included strong recommendations for individuals and businesses around personal behaviors and business operations.
Lifting the advisory is prompted by a decline in case counts, hospitalizations, and incidence rates in the majority of the counties across the six-county region. As of February 6, 2021, the daily district-wide incidence rate per 10,000 population is 2.22. Also, for the first time in months, all six counties are below the red health alert level.
As a reminder, all six counties in the district continue to experience community spread, which puts people living in and visiting these communities at higher risk for exposure. It is the goal of Southwest District Health to work our way back to a place where we have no community spread.
Thank you to our communities for continuing to do your part to reduce the spread of COVID-19 in our region. COVID-19 vaccines are just one of the tools we have to help return to pre-pandemic normal. Southwest District Health encourages everyone who lives, works, and plays in Southwest Idaho to follow the recommendations for the current health alert level in your respective county.
Questions may be directed to the SWDH COVID-19 Call Center Monday through Friday from 8:30 a.m. to 4:30 p.m. at 208-455-5411. Please refer to https://swdh.id.gov/covid19/ for the latest local numbers and data and https://coronavirus.idaho.gov/ for statewide information.
# # #
Media Contacts:
Ashley Anderson Ashley.Anderson@phd3.idaho.gov
Katrina Williams Katrina.Williams@phd3.idaho.gov