Southwest District Health announces expanded COVID-19 testing services available through the end of the year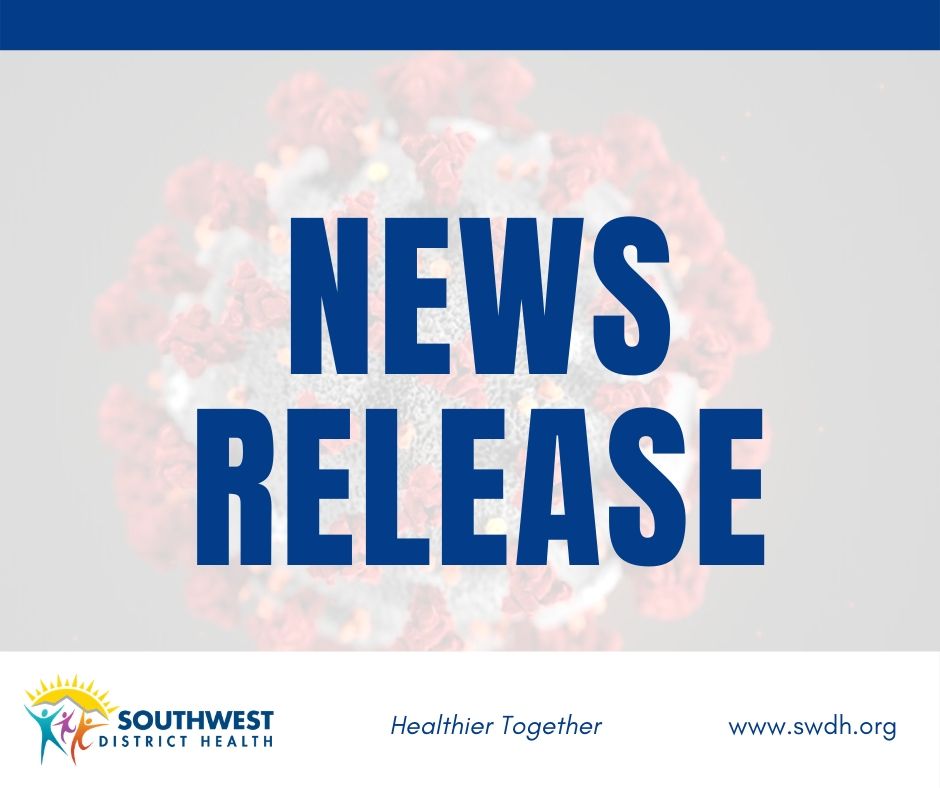 FOR IMMEDIATE RELEASE
Southwest District Health announces expanded COVID-19 testing services available through the end of the year
CALDWELL, IDAHO –  Southwest District Health has expanded COVID-19 testing service availability through the end of the year for individuals who have been exposed to COVID-19 and/or are experiencing symptoms of COVID-19. No cost COVID-19 drive-through testing services will be available Monday through Saturday at Southwest District Health's Caldwell facility located at 13307 Miami Lane, Caldwell, Idaho, 83607. There will be no testing services available on December 25, 2020.
To schedule an appointment for drive-through COVID-19 testing at the Caldwell facility, please call (208) 296-1030.
In addition, Southwest District Health is partnering with Crush the Curve to improve testing accessibility to outlying counties by providing accessible, free COVID-19 testing for individuals who have been exposed to COVID-19 and/or are experiencing symptoms of COVID-19. Funding provided by the State of Idaho make this partnership possible through the end of December 2020.
Testing Dates, Location, and Address Information:
Butte View Complex parking lot; 400 S. Pine Street, Emmett, Idaho
Dates
December 19-20, 2020 8am – 2pm
December 26-27, 2020   8am – 2pm
Costs
For individuals WITH insurance, the lab processing your test will bill your insurance provider. All co-pays are waived through the Families First Coronavirus Response Act. If for any reason your provider denies coverage, the State of Idaho will cover the cost of the test. Individuals will not receive a bill for services.
For individuals WITHOUT insurance, the federal Families First Coronavirus Act covers the cost of testing completely.
How to make an appointment
Go to CrushTheCurveIdaho.com and take the assessment. The assessment will ask for insurance information. At the end of the online assessment, you will be given a case number. Please take that number with you to your appointment.
When to expect results
An email with test results will be sent 24 – 36 hours after your test arrives at the lab.
For more information, please contact Lori Sperry at Southwest District Health at (208) 371-3197.
# # #
Media Contacts: 
Ashley Anderson           Ashley.Anderson@phd3.idaho.gov
Katrina Williams            Katrina.Williams@phd3.idaho.gov