Southwest District Health opens vaccine appointments to newly eligible groups on March 15; Resources launched for businesses in subgroup 2.3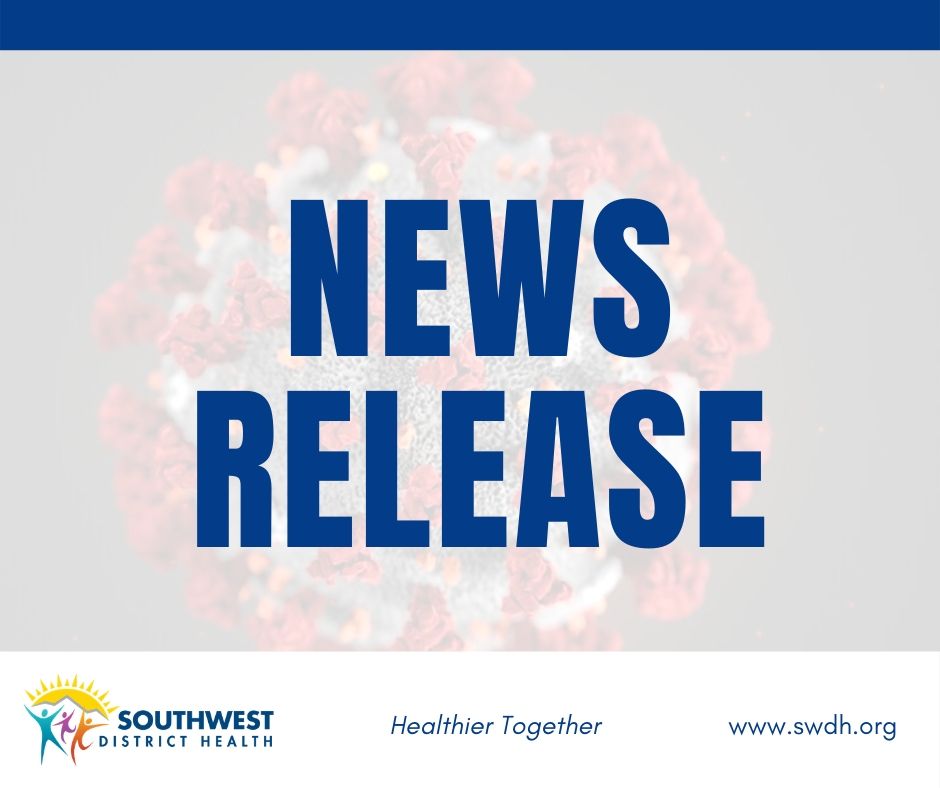 FOR IMMEDIATE RELEASE
Southwest District Health opens vaccine appointments to newly eligible groups on March 15; Resources launched for businesses in subgroup 2.3
CALDWELL, IDAHO – On March 15th, 2021, individuals in subgroups 2.3, priority group 3, and subgroup 3.1 will be eligible to receive a COVID-19 vaccine. Southwest District Health (SWDH) is encouraging those eligible in Idaho's COVID-19 vaccine subgroup 3.1 and previous groups to pre-register for COVID-19 vaccine using the State of Idaho's recently launched vaccine pre-registration tool at https://covidvaccine.idaho.gov/.
Last week, Idaho COVID-19 Vaccine Advisory Committee (CVAC) Vaccine Prioritization released an updated timeline as to when priority group 3 and subsequent subgroups will be eligible to be vaccinated. These updates may be found at https://coronavirus.idaho.gov/wp-content/uploads/2021/03/CURRENT-COVID-19-Vaccine-Advisory-Committee-CVAC-Vaccine-Prioritization-031021.pdf.
Resources for Subgroup 2.3 Businesses and Employees
Businesses and employees of businesses that are currently eligible for vaccine under subgroup 2.3 may visit SWDH's resource page at https://swdh.id.gov/covid-19-vaccine-priority-group-2-3-resources-for-businesses .
Finding a COVID-19 Vaccine Appointment
A list of  enrolled vaccine providers  currently receiving vaccine allocations in each county SWDH serves is available at https://swdh.id.gov/wp-content/uploads/2021/02/COVID-19-Vaccine-Location-R3-List-02222021-Eng-Span-PLUS-FRPP-locations-2.pdf. Southwest District Health staff cannot make appointments for these vaccine providers; however, the SWDH COVID-19 call center is available to assist residents without internet access or who need help navigating a website. See More Information section below for links to enrolled vaccine provider lists and call center details.
A newly-launched vaccine pre-registry tool in Idaho will also help connect more eligible Idahoans to COVID-19 vaccine appointments within their communities. The pre-registry tool allows residents to add their name and contact information to a list that is then accessible by enrolled vaccine providers. Providers reach out to those on the list to coordinate vaccine appointments. For more information and to pre-register for your vaccine, visit  https://covidvaccine.idaho.gov/.
We appreciate your patience throughout the COVID-19 vaccine roll-out process. We understand wait time for individuals to be contacted by a vaccine provider may be frustrating. Rest assured, you will be contacted by a vaccine provider when there is availability. Remember, please answer calls or texts from vaccine providers so that your appointment can be made. If you do not confirm your pre-registration and book an appointment with a provider, you may miss that initial opportunity to receive your COVID-19 vaccine. We ask for your continued patience, cooperation, and understanding.
High Demand for the New One-dose Vaccine Far Outpaces Supply
During first week of March, the newly authorized Johnson & Johnson (Janssen, J&J) vaccine was allocated to Idaho's health districts. 3,700 doses were allocated to CDH's counties; 2,100 hundred doses were allocated among SWDH's counties. The vaccine arrived on Thursday, March 4, 2021. However, additional allocations are not anticipated until later this month. Due to unknown receipt dates and allocation amounts of the Johnson & Johnson vaccine, of SWDH is unable to offer individuals the option to choose the vaccine they prefer when appointments are booked.
Southwest District Health strongly encourages its community members who are eligible for a COVID-19 vaccine to keep vaccination appointments and receive the vaccine that is available to them. We hope that as supply increases, opportunities for community members to choose which vaccine they receive when booking an appointment with a provider will be available.
More Information
Southwest District Health serves Adams, Canyon, Gem, Owyhee, Payette, and Washington Counties
·        Call Center: 208-455-5411 – Open M-F, 8:30 am to 4:30 pm
·        Vaccine web page: phd3.idaho.gov/covid19/#Vaccine
·        Region 3 Vaccine Providers https://swdh.id.gov/wp-content/uploads/2021/02/COVID-19-Vaccine-Location-R3-List-02222021-Eng-Span-PLUS-FRPP-locations-2.pdf
Region 3 data are available on the Southwest District Health website at https://swdh.id.gov/covid19/. Please visit https://coronavirus.idaho.gov/ for statewide information. Questions may be directed to the SWDH COVID-19 Call Center Monday through Friday from 8:30 a.m. to 4:30 p.m. (except for observed holidays) at 208-455-5411.
 # # #
Media Contacts:  Ashley Anderson   Ashley.Anderson@phd3.idaho.gov
Katrina Williams    Katrina.Williams@phd3.idaho.gov