Vaccine appointments available at Southwest District Health for individuals aged 5 and older following Pfizer-BioNTech COVID-19 pediatric vaccine approval for children ages 5-11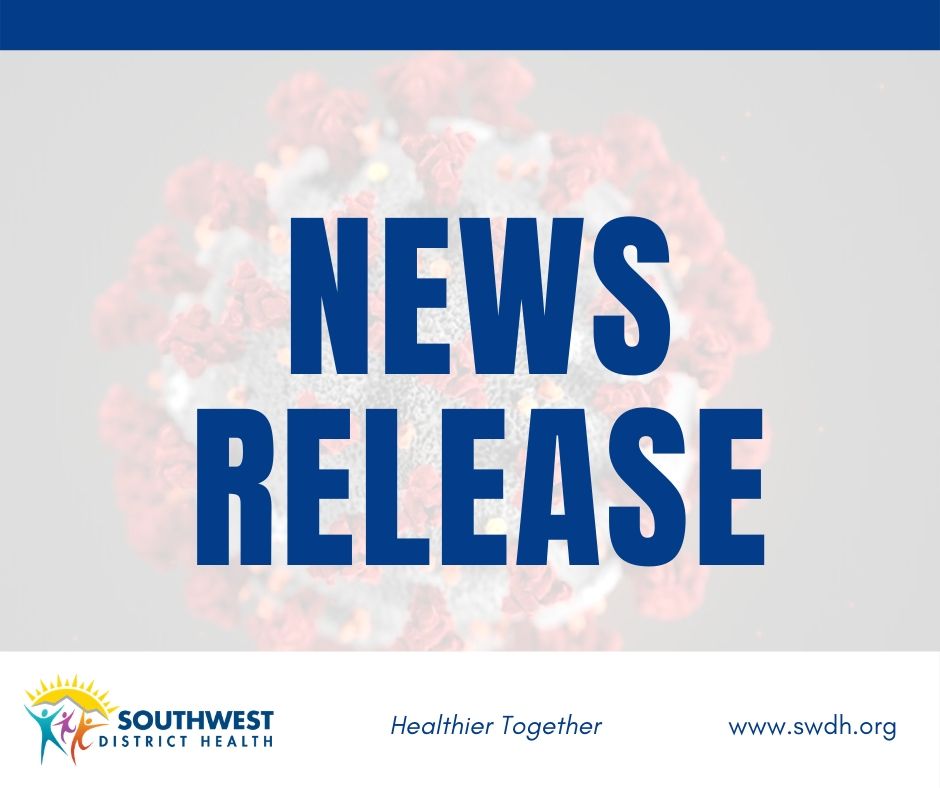 FOR IMMEDIATE RELEASE
Vaccine appointments available at Southwest District Health for individuals aged 5 and older following Pfizer-BioNTech COVID-19 pediatric vaccine approval for children ages 5-11
CALDWELL, IDAHO – COVID-19 vaccine appointments for individuals ages 5 and older are now available at Southwest District Health (SWDH). The Food and Drug Administration (FDA) recently authorized the use of the Pfizer-BioNTech COVID-19 vaccine for children ages 5 through 11 years. On Tuesday, November 2, 2021, The Centers for Disease Control and Prevention (CDC) recommended two doses of Pfizer-BioNTech's COVID-19 Pediatric Vaccine for children ages 5-11. This means that children 5-11 years and older are now eligible for COVID-19 vaccine.
Before being authorized for children, scientists and medical experts completed their review of safety and effectiveness data from clinical trials of thousands of children. The Pfizer COVID-19 vaccine was rigorously tested and reviewed, and over 11 million adolescents ages 12-17 have already safely received the COVID-19 vaccine. Parents are encouraged to do their own research on the safety, efficacy, and science behind COVID-19 vaccines.
Like the Pfizer-BioNTech COVID-19 vaccine for people ages 12 years and older, the two doses are administered at least 21 days apart. However, the pediatric vaccine for ages 5-11 is a different formulation and dose size than the vaccine for ages 12 years and older and requires different storage and handling practices.
Of note, only the Pfizer-BioNTech COVID-19 vaccine is authorized for emergency use (EUA) for those ages 5-16 and fully licensed for ages 16 and older. The Moderna and Janssen (Johnson & Johnson) vaccines are both authorized for emergency use in those 18-years and older. The CDC recommends all people 5 years and older get vaccinated against COVID-19, with booster shots recommended for certain eligible groups as well.
Making a COVID-19 vaccine appointment
Whether it's your first dose, second dose, or booster dose, if you would like to be vaccinated against COVID-19, please call the Southwest District Health COVID-19 Call Center at 208-455-5411. To find a vaccination location near you for your child contact your child's pediatrician, contact Southwest District Health, or visit Vaccines.gov.
Inquiries about the SWDH mobile vaccination team available free of charge to businesses or events within SWDH's jurisdiction can be directed to the SWDH COVID-19 Call Center at 208-455-5411 Monday through Friday 8:30 AM-4:30 PM (MST) except for observed holidays.
Information Resources
# # #
Media Contacts: 
Ashley Anderson           Ashley.Anderson@phd3.idaho.gov
Katrina Williams            Katrina.Williams@phd3.idaho.gov