Southwest District Health COVID-19 notification sign-up form and vaccination site locator publicly available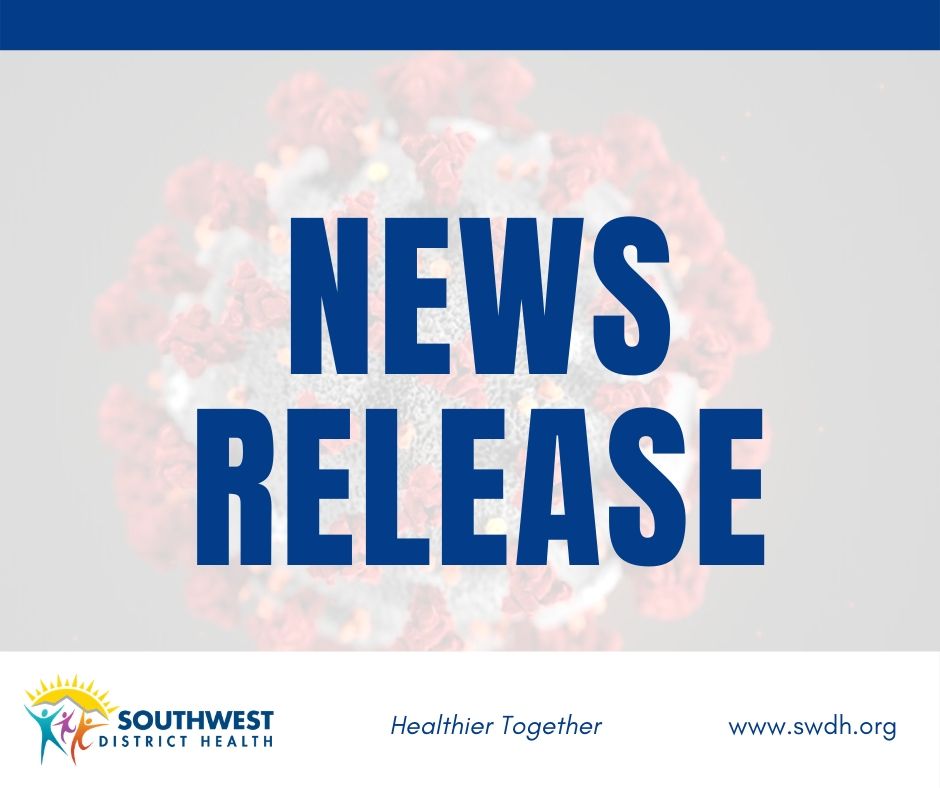 FOR IMMEDIATE RELEASE
Southwest District Health COVID-19 notification sign-up form and vaccination site locator publicly available
CALDWELL, IDAHO – Southwest District Health's (SWDH) COVID-19 hotline has received many questions about the COVID-19 vaccine and its availability. SWDH has launched a COVID-19 Vaccine webpage to keep SWDH communities updated with current COVID-19 vaccine information. In an effort to make more information about vaccination sites available within SWDH's jurisdiction of Adams, Canyon, Gem, Owyhee, Payette, and Washington Counties, a Region 3 Vaccination Sites webpage featuring a downloadable list and interactive map of currently enrolled vaccine providers is available to the public. This list and map of enrolled COVID-19 vaccine providers will continue to be updated.
In addition to the informational resources, SWDH has developed an online notification sign-up form that informs the community when the vaccine is available to their priority group. The online form is located on SWDH's website. Individuals may access this form and submit their information to SWDH, at that time individuals are added to a notification list for their qualifying priority group. This form and the notification process does not sign the participant up to receive or reserve a vaccine but serves as a mechanism to notify participants about options when the vaccine is available for their priority group.
For residents of Region 3 who use the new online form, your information will be collected electronically, then you will be notified via e-mail or phone when your priority group is eligible for vaccine. Please continue to follow SWDH on social media and regularly check the State of Idaho's coronavirus website for COVID-19 vaccine updates. This is a call to action for the communities of Southwest Idaho, to those that have friends, neighbors, or loved ones that are not able to access COVID-19 vaccine online resources, we strongly encourage our residents to stay informed and share vaccine updates with one another. Each vaccine that is administered is a step toward returning to pre-pandemic life as we know it. Public health needs the help of our communities to keep one another informed of current and correct vaccine information, information such as safety, efficacy, and availability.
SWDH continues to work diligently to build capacity within communities to distribute and administer available COVID-19 vaccines. SWDH is not delaying the distribution of COVID-19 vaccine. While interest in vaccine is high, weekly vaccine allotments are limited at this time and will impact how quickly individuals can get vaccinated. Vaccine is being distributed to healthcare partners, including clinics and pharmacies who have enrolled to be COVID-19 vaccine providers. Vaccine is currently being offered to the population in Priority Group 1 and eligible individuals in Priority Group 2.1 as defined by Idaho's COVID-19 Vaccine Advisory Committee's (CVAC) recommendations that have been approved by Governor Little. ​​
For more information on the COVID-19 vaccine, including a Frequently Asked Questions (FAQ) section, please visit: https://coronavirus.idaho.gov/covid-19-vaccine/
# # #
Media Contacts: 
Ashley Anderson           Ashley.Anderson@phd3.idaho.gov
Katrina Williams            Katrina.Williams@phd3.idaho.gov